Enchanting campingholiday by
one of Denmark´s best

natural locations

Directly out to Vejle Ådal, Fårup Sø and with its own beach. The campsite is partly built in terraces with lots of cozy nooks, some right down by the lake shore and others high up with an impressive view of the forest, lake and fields.

Overnight in your own tent, caravan or motorhome. Fantastic natural area, beautiful quiet place which is very child-friendly and with a delicious warm pool. The site is well maintained and the toilet buildings are clean. There are good activities here in the high season, e.g. pool party, live music, snobrød etc.

Here is warmth of heart and good mood. Look forward to visiting this gem, you will be warmly welcomed.

READ MORE ABOUT FACILITIES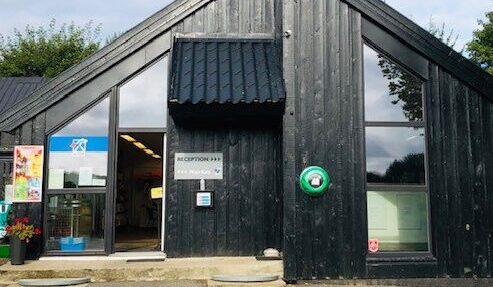 2 SENIORS (60+)
PLACE WITH ELECTRICITY
LOW/HIGH SEASON
ONE NIGHT: DKK 290 / 340
ONE WEEK: DKK 2030 / 2380

2 ADULTS
PLACE WITH ELECTRICITY
LOW/HIGH SEASON
ONE NIGHT: DKK 310 / 360
ONE WEEK: DKK 2170 / 2520
2 ADULTS + 2 CHILDREN (0-11 YEARS)
PLACE WITH ELECTRICITY – LOW/HIGH SEASON
ONE NIGHT: DKK 430 / 480
ONE WEEK: DKK 3010 / 3360
1 ADULT IN TENT AREA
PLACE WITHOUT ELECTRICITY ONE NIGHT: DKK 170


Shower
A shower in the service bulding cost 5 kr. for 3 minutes.
Gold pitch
These places are closest to the lake and costs a little more. From 60 D.kr. per night.
Pitch types

Standardpitches
Standard pitches (with electricity) are 70-100 m2 and all have a connection to electricity (13 amps). The price for the standard pitch is the same no matter where on the campsite you would like to stay.

Pitches for tents without electricity
3 areas for tents without electricity. Two tent places close to the service building, and the smaller tent place – if you wish for a more quiet place. If you would like a pitch with electricity then you should choose a standard pitch.

Blue/Yellow/orange area
A large area known for its view of fields, forest and lake.

Gold pitches
Uniquely located directly by the lake – costs a little more than standard pitches.

Motorhome area
Motorhome pitches 251-268 are over 100 m2 large and all with electrical connection (13 amp). All motorhomes can also stay in the blue/yellow/orange area. Smal motorhome/camper/van can freely book ALL types of pitches.

If you are in doubt, contact us.
Check prices and book online – You save DKK 50 in booking fees when you book online. You can choose your place or cabin yourself.
See a larger map of the campsite